Yelp Review, June 1, 2016, 5 Stars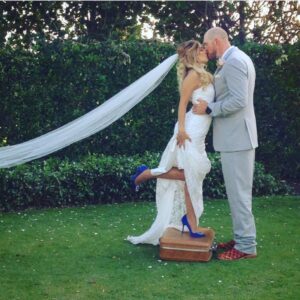 Fab weddings exceeding every expectation we had for our wedding by far. My husband and I connected with Ashley at the beginning of our wedding planning process, after reading and hearing great feedback about the company. From day one Ashley was not only quick to respond and easy to work with, but she also provided us with a list of vendors and venues to make our search easier.
Ashley is very artistic and detail oriented. After showing Ashley a picture of wooden signs we hoped to incorporate into or ceremony, she made them, she hand painted and stained the signs herself to make sure we had them ( they turned out better than the picture we showed her). Every small detail we hoped for, Ashley helped bring to life.
Our goal with hiring a wedding planner was to make sure our friends and family were able to enjoy the wedding and not have to work or stress about details. The day of the wedding Ashley and her amazing assistant Kaitlyn made sure of that. From staying in contact with all of the vendors to make sure everyone was where they were suppose to be and on time, to setting up decor ( which was mostly provided by Fab weddings ), lining up the wedding party, to serving our dinner and checking on us and our elderly guest throughout the night, to even packing our gifts and decorations into our cars, Ashley and Kaitlyn were simply flawless.
Ashley even sent us some beautiful photos she captured of our wedding.
We would ( and do ) highly suggest Fab weddings to any bride and groom looking to to make their wedding day run smoothly.
~Yelp Review, June 1, 2016, 5 stars