Yelp Review, August 9, 2015, 5 Stars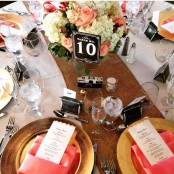 We found FAB Weddings through our venue (Recreation Park Golf Course in Long Beach), and are so glad we added day-of coordination services to our package. We didn't have as many helping hands available as maybe other brides and grooms, so it gave us peace of mind knowing we had someone professional to help take care of things. Ashley met with us in person before the big day, kept in contact via email leading up to the wedding, arrived two hours before to set up (that part was a little extra but totally worth it), and stayed through the cake cutting.
Ashley was easy to work with and has a great disposition - down-to-earth, reassuring but upbeat. She was prompt about returning emails and had a good working relationship with our venue's coordinator, Katelyn, which made communicating a breeze all around. I only wish my fiancee and I had done a better job on our end by preparing a list of all our props/items in advance (what goes where) since the wedding day is so crazy; fortunately, Ashley seems really intuitive and the set-up was pretty close to what we had in mind anyway. A lot of guests told us afterward how organized and beautiful everything was.
We especially appreciated the way things were brought inside as we transitioned from the outdoor cocktail hour to the indoor reception. Ashley arranged our guestbook, card box, leftover programs, and other items on a table that people could access through the night, and it looked great in the background of photos. She also used our cocktail table decorations to make a pretty display in the fireplace behind the sweetheart table.
Overall, we were happy to have been referred to FAB Weddings, and the coordinating services exceeded our expectations. Even the next day, it was a nice surprise to see on Instagram that Ashley shared several awesome photos during the day/evening from behind-the-scenes. She really cares about her work, and will make the best of whatever information you provide and what's on-hand to make everything seem as effortless and aesthetically pleasing as possible. If we had to do it over we'd certainly work with her again, and would recommend to family and friends. Thanks, Ashley!
~Yelp review, 5 stars, 8/9/2015