Yelp Review, August 21, 2015, 5 Stars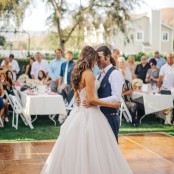 We hired Ashley with FAB weddings as our day of coordinator. As much as I loved planning our wedding, I knew we were going to need help the day of to make sure everything went off without a hitch. Ashley not only took care of everything the day of, but leading up to the big day was attentive to all the details. I already knew she had impeccable taste, so had no worries about that. She was organized, creative and really put a special touch on our space. I literally dropped off boxes of decor items and without any real direction or specification, she decorated our reception and ceremony perfectly. It not only looked great,but made logistical sense, as well. She is lovely to work with, as she really listens to what the bride and groom want for their day. She also has tons of items to rent that just complete the look of any wedding...things the bride doesn't think of or waits to the last minute to think of (signs, decor items, games, etc...) Her experience in the industry really plays a role on how much she knows about the itinerary of a wedding day and how to manage all of the chaos that inevitably ensues. I will admit that I can be a bit of a control freak and knowing Ashley was there, put my mind at ease and allowed me to really enjoy the day with my new husband. We are still talking about how it was the best day ever!
We couldn't be happier with her services and will be recommending her to everyone going forward!
~Yelp Review, 08/21/2015, 5 Stars